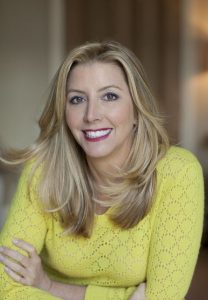 Sara Blakely is the founder of Spanx, an American intimate apparel company with pants and leggings. Before founding Spanx, Blakely worked for Danka, selling fax machines door to door. As a requirement for her sales job, she was required to wear pantyhose. Blakely disliked the appearance of the seamed foot while wearing open-toed shoes, but liked the way that the control-top model eliminated panty lines and made her body appear firmer. So one night, before going to a private party, she experimented by cutting off the feet of her pantyhose while wearing them under a new pair of slacks. While the pantyhose continuously rolled up her legs, she also achieved the desired result.
She patented the idea almost immediately, and started calling manufacturing plants, begging them to make a prototype for her. She even taught herself about the hosiery business by reading about it online. It took a while, but finally a manufacturer took a chance on her idea. And a multi-billion dollar company was born, making Blakely one of the wealthiest and most influential women in the world.
But success was not always a part of her life. She didn't make it as a standup comedian. She couldn't become a lawyer like her dad because she failed the LSAT — twice. She even auditioned to play Goofy at Disney World, but because she was shorter than the required 5'8″, they made her a Chipmunk instead.
But she was able to reframe failure. And that has made all the difference.
Dan and Chip Heath share a great story about Blakely in their new book, The Power of Moments: Why Certain Experiences Have Extraordinary Impact. Sara's dad would ask her and her brother every week one simple question: "What did you guys fail at this week?" If they had failed at nothing, he would be disappointed.
That one question reframes failure for her and for us. For Sara, failure was not "not achieving the right outcome." Failure was defined as not trying something she wanted to do. Failure is defined as not trying.
The question her father asked removed an aversion to risk. It actually celebrated risk. And in that risk, failure. And in failure, learning. And in learning, a multi-billion dollar company was born.
It would be well if we lived with that same idea. "What did I fail at this week? What did I try to accomplish but didn't?"